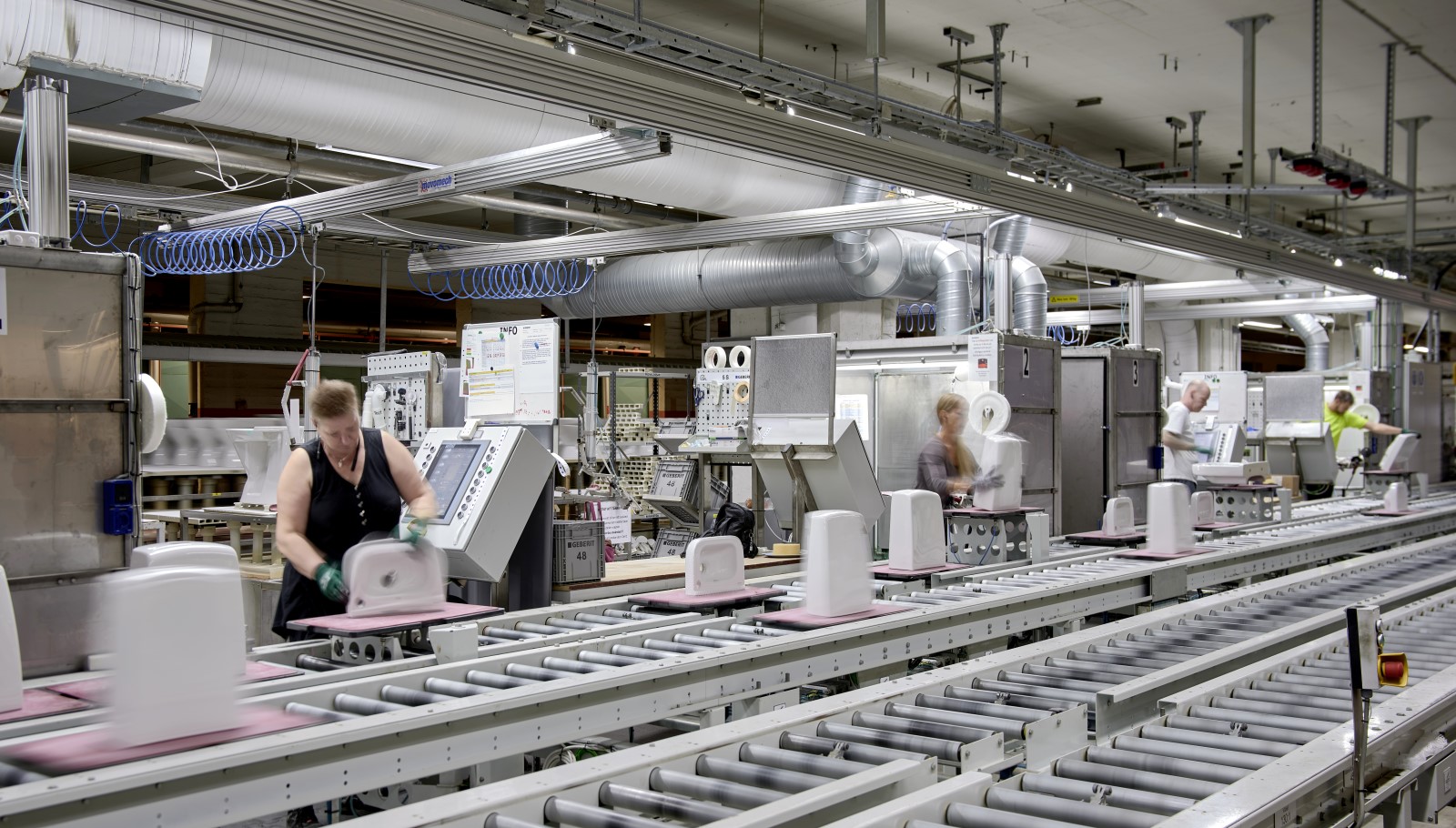 Robots lend a helping hand
Want to know what's behind the "flowing factory" process at the ceramics plant in Bromölla (SE)? The answer can be found in quality control.
Bromölla is located in southern Sweden. The degree of automation in production at this ceramics plant is extremely high. Currently, 54 robots are in operation at the plant. Nonetheless, the production processes are constantly being optimised.
Automation of quality control
The "flowing factory" is one of the core goals of the Geberit Production System (GPS). In Bromölla – as in all other plants at the Geberit Group – the aim is to use automated workflows to clearly organise the production processes while also optimising the use of resources and improving working conditions.
Technical Manager Johan Bergskans and his team recently developed and put into action a concept for modernising the quality control of ceramic parts after the firing process.
"Lifting heavy ceramic appliances is now a thing of the past." Johan Bergskans – Technical Manager at the plant in Bromölla
Previously, every ceramic sanitary appliance had to be lifted by hand onto carriages and positioned on new pallets. Appliances with minor faults were separated and sent on the long trip back to the kiln for refiring. At each step of the process, the parts had to be lifted by hand. As a result, many employees suffered from back and shoulder problems.
A smooth process
Today, the carriages are loaded and unloaded by robots. Cameras scan and record which model is currently being processed and the status of the ceramic appliances. They are then placed at set distances on a conveyor belt and transported to the workstations, where they are inspected by the employees.
All processes are coordinated ergonomically. Any repairs can be carried out directly at the workstation. At the end of the conveyor belt, the appliances are all sorted automatically. Depending on their condition, they are then transported on by robots to the next step of the process, whether refiring, assembly or packaging.