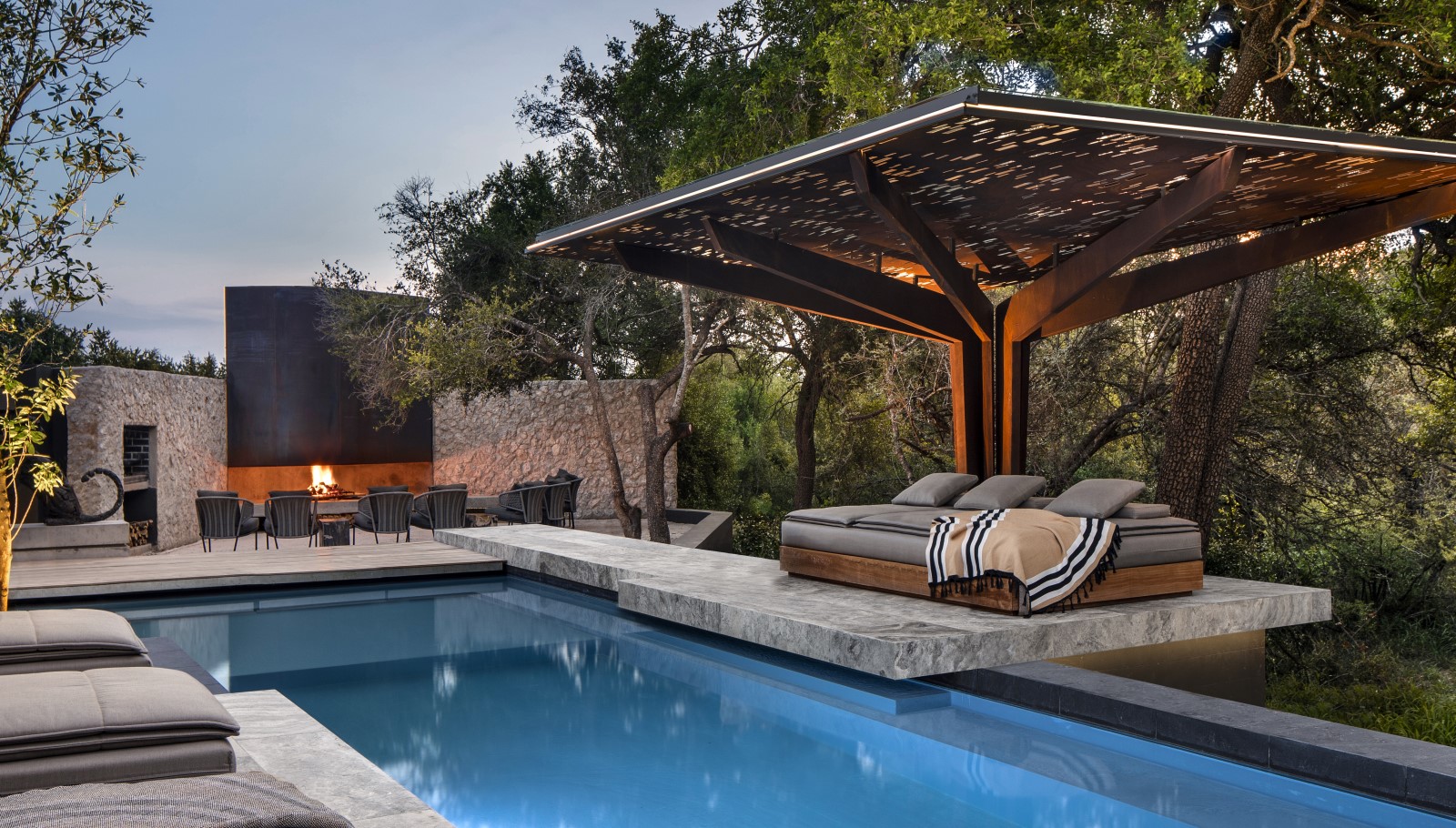 Up close and personal with nature
Visitors to this very special lodge in the Sabi Sands Game Reserve in Mpumalanga (ZA) live in a bush camp. The boundaries between luxury and the wildness of nature are blurred, as are the boundaries between the living spaces and savannah.
This is made possible thanks to the architectural design of the three exclusive bush villas with their expansive cantilever roof structures, not to mention the open design of the site as a whole. The building interiors were also designed with one eye on the wildness of nature while also offering the very highest luxury. Through expansive windows, all living spaces open towards the surrounding bush, and the open spaces virtually project into the reserve. The bathrooms can be opened up completely to overlook the savannah, giving guests the feeling of almost bathing together with the hippos outside.
Both indoors and outdoors, the buildings feature building materials in archaic styles and natural materials from the surrounding area. While the architecture has a primal, linear feel with its off-shutter concrete walls and elements in weathered steel, the interior design focuses on warmth and different textures. Examples include rough natural stone walls, wooden tables and expansive panes of glass that give the rooms a style that is simultaneously both archaic and modern. From this ambience, the reserve can be admired in an excellent way, for the guests live in the heart of the bush itself.
Collecting rainwater
The Pluvia roof drainage system is used at the lodge. The goal is to drain off rainwater as quickly and efficiently as possible and collect it in cisterns. From here, the water is used for irrigation and other tasks and thus saves on valuable drinking water during the dry season. The Pluvia roof drainage system is generally designed for use on large or complex roofs. Thanks to the roof outlet's modular design and many models, the system is suitable for almost all installation situations.
Cheetah Plains,
Sabi Sands Game Reserve, Mpumalanga, South Africa
Building owner: Japie van Niekerk
Architecture: ARRCC